Chances are that by now you've heard at least a little something about The Village, located in Stamford's South End. If you haven't heard a peep about one of Fairfield County's most buzzworthy openings in a while, you must be totally cut off from civilization aka social media.
The CliffsNotes explanation of The Village is simple. It's a multi-purpose space. Think offices, pop-up events, an outdoor patio that's exclusive to Cisco Brewers from Nantucket, a rooftop garden, private event spaces, a tequila bar, and a New American anchor restaurant in The Wheel.
The Village, as a whole, is financed by media mogul and Greenwich resident Brent Montgomery who with Jimmy Kimmel, founded Wheelhouse and all of its umbrella companies. Brent's wife, Courtney, who founded Wheelhouse Properties, oversaw the development of The Village.
That ends your crash course on The Village. But this is a food site and we're here to talk about The Wheel and what it offers to quench your thirst and fill your bellies.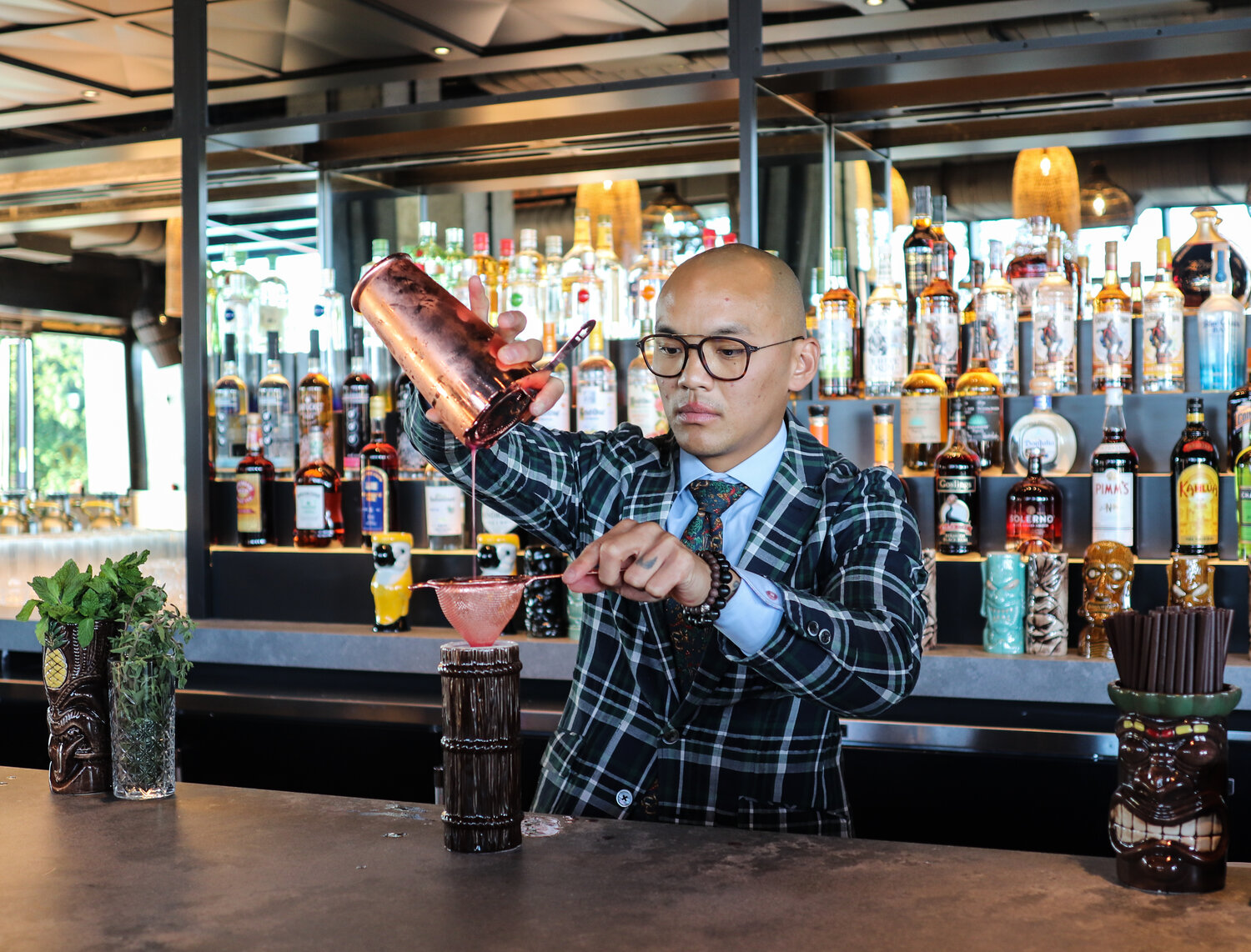 "Let's start at the bar" seems typical for one of these articles but we have to in the case of The Wheel. There's a team of heavy hitters in the industry that are on board here, including beverage director Kyle Tran. Tran's resume includes stints at Grant Achatz's molecular gastronomy-based bar, The Aviary, and the Los Angeles branch of Employees Only. The current lineup of cocktails leans toward refreshing for summer with spritzy, ice cold, tiki type drinks. Expect fresh squeezed juices, house-made syrups, infused liquors, and for each beverage to be made with precision and care.
Much like the cocktails, The Wheel's menu is as farm fresh and seasonal as it gets. Chief food curator Mike Geller, owner of Mike's Organic, is using his connections to local and semi-local farmers and purveyors to get the highest quality ingredients right to The Wheel's kitchen. To boot, Geller and the culinary team are even growing produce and herbs in The Village's rooftop garden to use in the restaurant and at the bar.
In said "kitchen" is executive chef Chris Shea. Shea is the culinary director for APICII, a hospitality management and development company. He's also headed the pass at The Wayfarer and David Burke Kitchen, to name a few.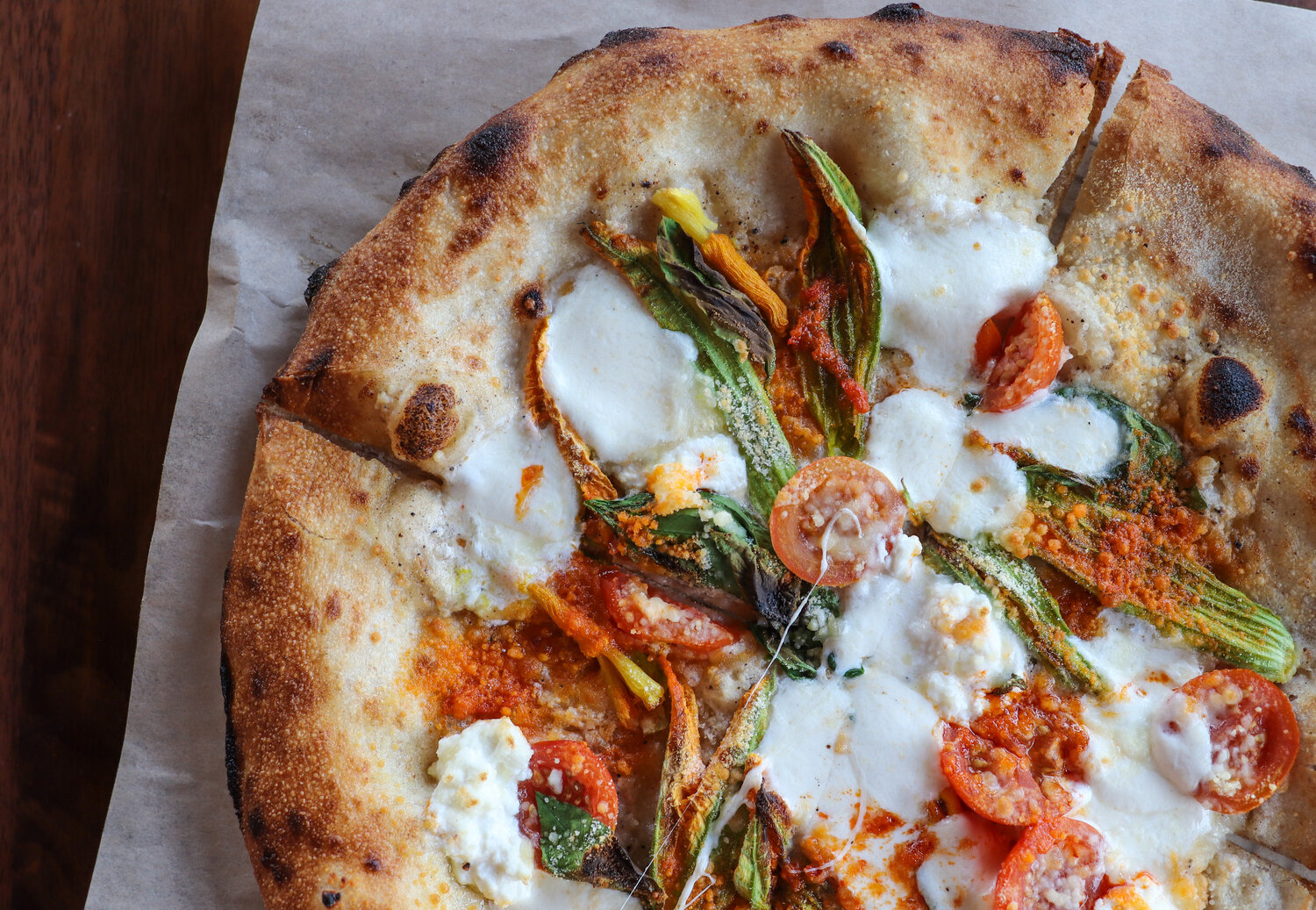 At The Wheel, Shea combines his fine dining knowledge with local ingredients. The result is an approachable menu that allows the freshness to shine. And there's something for everyone.
The custom Marra Forni oven doesn't only crank out light, Neapolitan style pizza, it's used to crisp up the skin of a worthwhile beer brined brick chicken dish. It also provides flames to roast shellfish and make the Liuzzi mozzarella bubble on eggplant parmesan.
The Hamden-based Liuzzi brand makes another appearance in a summery burrata appetizer (currently with Adam's Berry Farm strawberries) that's great for sharing. Savory wagyu meatballs with polenta, Cora Cressy and Mook Sea Farm oysters on the half shell, smoked swordfish dip with corn tortillas and pepper jam, and creamy hummus-like eggplant dip with pita chips are all suitable for your group's picking.
More substantial fare comes in the form of a beefy burger or a Maine style lobster roll, both served with a heap of shoestring fries. Rounding out Shea's menu are a few Creekstone Farms steak entrées, steak & shrimp fajitas, and four seafood dishes that will surely undergo a seasonal switch up, as most of the menu undoubtedly will.
Normally, this is the part where we'd say something like, "Well, if you're staying for dessert…"
This time it's true. Stay for dessert. Specifically, stay for Alessandra Altieri Lopez's desserts. Lopez's cred includes a decade working under Thomas Keller. At Per Se she served as pastry sous chef, and later as Bouchon Bakery's pastry chef, general manager, and ultimately as bakery director.
Lopez's desserts at The Wheel range from fun—a granita version of a Foxon Park root beer float—to nostalgic, like her s'mores interpretation in lava cake form with homemade graham cracker ice cream. There's even a pistachio cheesecake that won't leave you feeling stuffed. It's airy, not too sweet, and it's served at a proper chill below room temperature. Seriously. Don't miss it.
This is only the tip of the iceberg for The Wheel and The Village if we're talking about it as a whole. We're told to anticipate exclusive celebrity chef tastings, special events (just announced they will host Greenwich Wine + Food), live music, possible farmers market pop-ups, and more.
You'll go at least once, no doubt, but The Village's promises of fun and food will make it so you keep coming back.
4 Star Point; Stamford
475.270.1300; https://thevillagestamford.com/the-wheel/